Yum!!! If you don't already know, I am a big coffee fan! I found a couple recipes that I plan on trying here in the new future that I wanted to share. Don't they look delicious? Enjoy!
Abbey's White Chocolate Latte
Ingredients
1 1/2 cups milk
1 tablespoon heavy cream
1/8 teaspoon vanilla extract
1 tablespoon white sugar
1/2 cup brewed espresso
1/4 cup white chocolate chips, chopped
Directions
Combine the milk and cream in a saucepan, and whisk over high heat until hot and frothy. Remove from heat and stir in the vanilla and sugar. Whisk together hot espresso and white chocolate chips in a mug until smooth. If you are making two, pour half into another mug. Top with the frothy hot milk and stir to blend in the flavoring.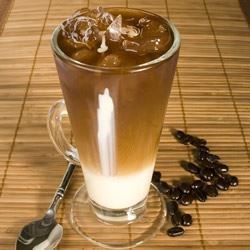 Ingredients
4 cups water
1/2 cup dark roast ground coffee beans
1/2 cup sweetened
condensed milk
16 ice cubes
Directions
Brew coffee with water using your preferred method to make brewed coffee. Spoon 2 tablespoons of sweetened condensed milk into each of 4 coffee cups. Pour 1 cup of fresh hot coffee into each cup, and stir to dissolve the milk.
Serve guests cups of coffee, and give each one a tall glass with 4 ice cubes, and a long handled spoon. Guests pour hot coffee over the ice cubes and stir briskly with the long handled spoon, making an agreeable clatter with the ice cubes to chill the coffee.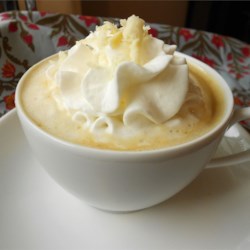 Ingredients
2 fluid ounces espresso coffee
2 tablespoons gingerbread flavored syrup
1/2 cup milk, steamed
1/8 cup whipped cream
1 pinch ground nutmeg
1 pinch ground cinnamon
1/2 teaspoon vanilla powder
Directions
In a coffee mug, combine espresso coffee with flavored syrup. Pour in steamed milk. Top with whipped cream, and sprinkle with nutmeg, cinnamon, and vanilla powder.